Species: Wolf
Name: Arson
Age: 3
Nickname:
Pelt: In picture
Markings: Picture
Gender: Male
Eye color: Green
Meow or bark: Bark
Personality: Free-spirited, wild and corageous for age. Arson is strong willed but troublent, sometimes seen as an instigator or a troublemaker.
Quick-witted and stong Arson stands out.
History: He lived with humans tied up in a garden, while the humans continued to make noise and tease him beong the leght of the rope.
After finally catching a human human in his jaws. He was beated and dumped. He cannot remember much else.
Strengths: Hes is very big and strong. His jaw is huge and powerfull. very good camofaged at night and not slow.
Weaknesses:
Eye sight is not to good
Other:
[img]
[/img]
Name - Blacksmoke
Nickname - Smoke
Age - 5
Gender -Male
Pelt - Gray
Pack- Golden Legends
Rank- Second in command
Sound- Loud hiss and meow
Eyes - light Green
Other -
Personality - Friendly and caring but only to his family and pack. He loves to prove to others hes strong. and not to be messed with. He have a temper and anger. But he can hide his emotions well.Very loyal to pack and stubborn. Does not give up easy. Can be to harsh at time, and mean. Can be cocky at times and selfish. Very wise for his age.
History - Lives as a loner for most of his life. Now is looking for a pack to join and become a great member of a great pack.
Weaknesses - Half blind
Strengths - Can hear and smell greatly. His speed and power is amazing. Great fighter and will kill if anyones get in his way. Great at sneaking around and being silent.
Species: German shepherd
Name: Boris
Nickname: None
Pelt: Like in the Picture
Markings: In the picture
Gender: Male
Eye: Light brown
Meow or bark: loud bark rough
Personality: Strong minded knows his rights and wrongs. True warrior like his father. More mild and mellow then others. Kind- hearted and careing. Knows fighting doesnt solve anything, but has a reputation for fighting for protecting others and proving his point. Can get angry at times but it doesnt happen much.
History: Born in a kennals top breed of german shepherd. He was bought and soon realised he was to big of a dog and gave him to a resuce shelter.
After home after home he left to live away from humans.
Strengths: Muscley body gives him streght and speed. And thick that can give a powerfull bite
Weaknesses: Weak spot on his side just infront of his hind leg.
Other:
Picture(s)
[img]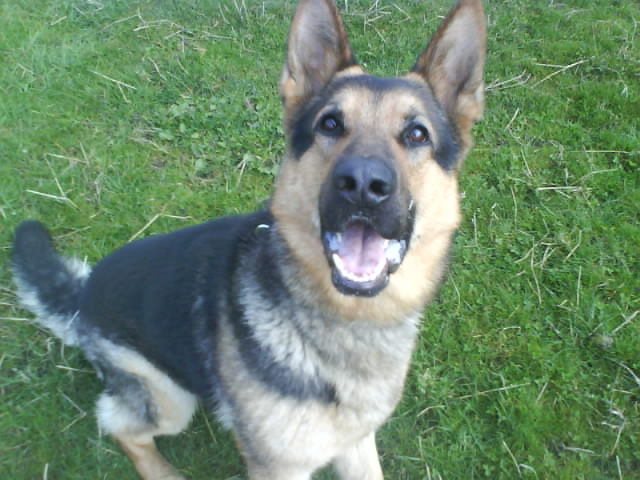 [/img]
Species: Wolf
Name: Reuel
Nickname:
Pelt: Main pelt is Black. Ears and hair on head are a lighter black. Muzzle and eye patches are dark grey.
Markings: Moon shape on face is white.
Gender: Male
Eye color: Green
Meow or bark: Bark
Personality:
Reuel can be considered the alter ego . Hes hot-headed He normally lay low until some one gets up his back. Reuel anti-social and short-tempered. But aside from his rough personallty he does love to be around others. He have a short paitence for alot of wolves. He's proud and irrogant. To his friends can show a slight charm to him and is loyal to them.
History: Unknown
Strengths: Great fighter. Strong jaws
Weaknesses: Small paws, slow runner